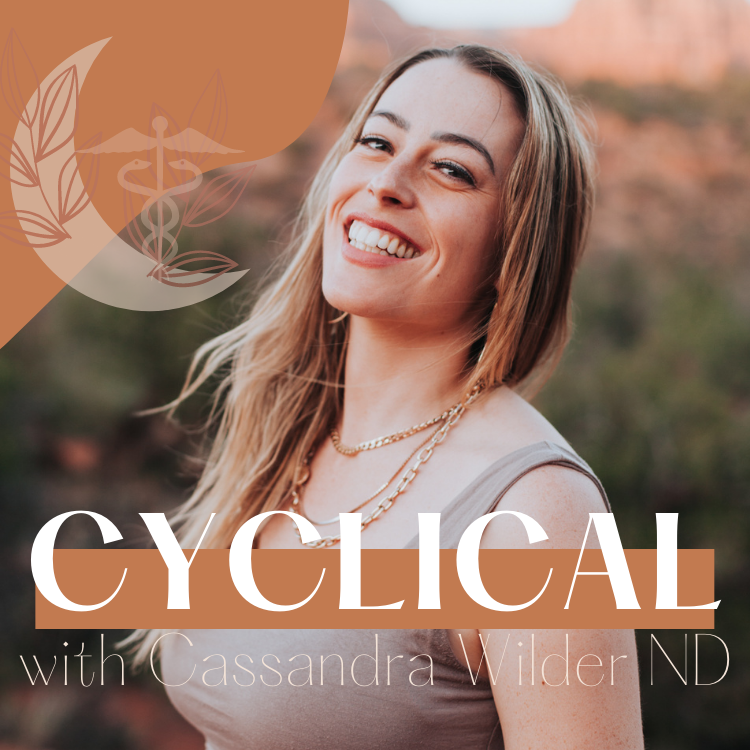 Welcome to the CYCLICAL Podcast with your favorite menstrual cycle expert and integrative hormone doctor Cassandra Wilder. Listen in for powerful conversations surrounding hormone health, menstrual wellness and metabolic restoration. Around here, nothing is too taboo or awkward to talk about - we discuss it ALL! Stay connected with Cassandra on IG @menstruationqueen
Episodes
Monday Apr 04, 2022
Monday Apr 04, 2022
Welcome back to the CYCLICAL Podcast! I don't know if you're like me, but skin care stuff often overwhelms me. Should I try retinol? Or a vitamin c serum? What if my skin is dry? Or oily? These are questions I've always wanted to ask an expert and finally today is the day I get to learn from expert holistic esthetician Kayla Renner!
Kayla is such a wealth of information and I love that her approach is both external as an esthetician AND investigative of internal causes for skin problems. 
In this episode we talk about:
How the skin works and why our skin may have different needs

Oily vs dry skin and how the approach differs

Her true root cause method to help women have glowy skin

Holistic anti aging for skin

Products and ingredients to steer clear of

Her recommended morning and evening routine

The products she loves and the ones we can leave behind

And so much more 
🩸 Wondering what's going on with your hormones?! Grab my FREE balanced period bundle www.cassandrawilder.com/free-bundle
🩸 Get on the waiting list for Period Reboot - my program that has transformed thousands of women's hormone and menstrual cycle health www.cassandrawilder.com/period
Kayla is a licensed Holistic Esthetician, Life Coach, and Herbalist with almost 10 years of experience in the skincare field. She is passionate about guiding women into harmony by using what she calls "Skin Therapy" and the magic of herbs! Skin Therapy is much more than your typical facial and blindly applying skincare products at home. It's about intention and compassion towards the body. She cultivates a space for clients to relax and rejuvenate during a holistic facial, and tools for her clients to use at home like Sculptural Face Massage and other ancient beauty rituals. Kayla believes all women deserve to feel seen when struggling with skin imbalances and deeply cares about healing the body from the inside out.
Connect with Kayla:
Instagram- @KaylaRenner 
Website- KaylaRenner.com 
Loved this episode? Tag me @menstruationqueen and Kayla to share the love
Lastly, it means the world when you take a moment to rate the podcast and subscribe! It's the easiest way to support the podcast and help us reach more women. xo