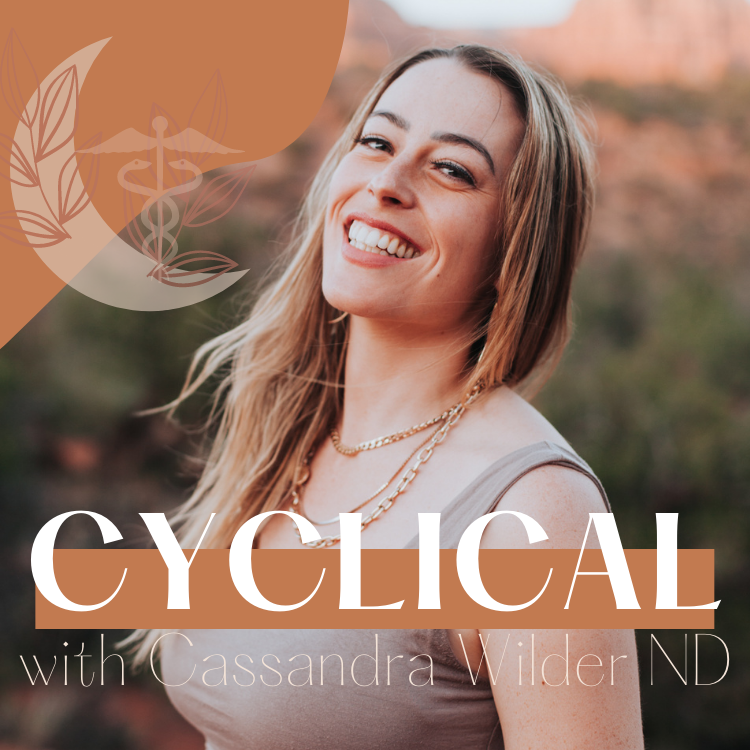 Welcome to the CYCLICAL Podcast with your favorite menstrual cycle expert and integrative hormone doctor Cassandra Wilder. Listen in for powerful conversations surrounding hormone health, menstrual wellness and metabolic restoration. Around here, nothing is too taboo or awkward to talk about - we discuss it ALL! Stay connected with Cassandra on IG @menstruationqueen
Episodes
Monday Jul 11, 2022
Monday Jul 11, 2022
The new season is here!!!!! I'm so happy to be back with all of you! To begin the new season, I'm sharing a pregnancy update due to popular demand! And then also, some of the things that supported me in getting pregnant. I share about the journey of getting pregnant, timing intimacy, preparing for birth, creating informed consent, postpartum and breastfeeding and sooooo much more!
This episode is part of our #cyclicalbirthseries 
And as always with everything on my platform and podcast, this is educational and never to invoke shame. 
Today's episode is brought to you by Cozy Earth, my FAVORITE super soft sheets. Try it for 100 days and love it or get your money back 
Take 40% off your order with code "goddesspodcast" at https://cozyearth.com/products/bamboo-sheet-set?variant=40252110405812
In this episode we talk about:
My pregnancy update and how I'm feeling

If we know the gender of the baby

What things I'm focusing on with baby and birth

Our home birth plan

Postpartum healing

What's coming on the #birthseries

5 things I did before getting pregnant

Timing intimacy for conception
💦 Shop my Cycle Tracking 101 workshop to learn how to track your cycle and confirm ovulation - https://www.cassandrawilder.com/offers/vRaWJFYA
🩸 Wondering what's going on with your hormones?! Grab my FREE period bundle at www.cassandrawilder.com/free-bundle
🩸 Get on the waiting list for Period Reboot - my program that has transformed thousands of women's hormone and menstrual cycle health www.cassandrawilder.com/period
Loved this episode? Tag me @menstruationqueen to share the love
Lastly, it means the world when you take a moment to rate the podcast and subscribe! It's the easiest way to support the podcast and help us reach more women. xo