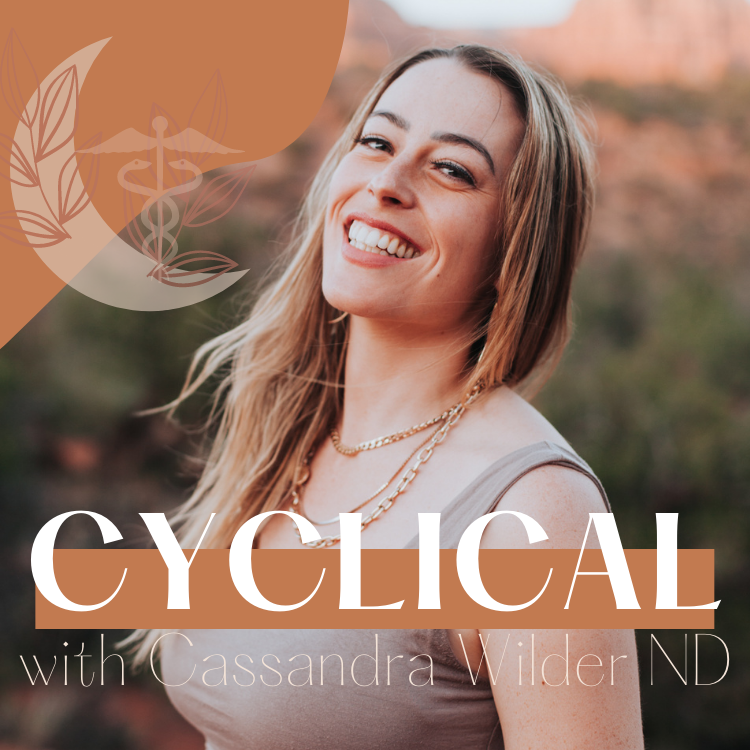 Welcome to the CYCLICAL Podcast with your favorite menstrual cycle expert and integrative hormone doctor Cassandra Wilder. Listen in for powerful conversations surrounding hormone health, menstrual wellness and metabolic restoration. Around here, nothing is too taboo or awkward to talk about - we discuss it ALL! Stay connected with Cassandra on IG @menstruationqueen
Episodes
Monday Nov 23, 2020
Monday Nov 23, 2020
In this episode, Cassandra welcomes Denell Nawrocki of Cervical Wellness to talk about the power of the cervix, what it means to have abnormal Paps and the initiation into the Dark Goddess the cervix provides. If you've struggled with your cervical health, this episode will definitely give you new tools, insights and connections into your cervical journey. Denell had SO much great wisdom to offer in this episode. And even if you feel your cervix is healthy, this episode will help you continue to support your health moving forward. 
Together in this episode they talk about:
What the cervix is and what it means to be diagnosed with abnormal Paps

The wisdom of the cervix and how cells work on the face of the cervix

What HPV is and the shame spiral that can be attached to it

The LEEP procedure: is it the right option for you?

The emotions of the cervix and why these are VITAL to understand on the healing journey

The pattern of codependency in cervical imbalances 

Denell's favorite practices to connect to her cervix

The cervix and the initiation of the Dark Goddess

And much, much more!

Her book can be purchased here: https://www.barnesandnoble.com/w/informed-aware-empowered-denell-nawrocki/1134807829
Denell Barbara Nawrocki, MA is a guide, speaker, and author specializing in Women's wellness and Earth-based health. She believes in the body's ability to heal, and guides Women to connect to their body and find empowerment on self-healing path.
Since 2008, Denell has done extensive study in the fields of health, healing, personal transformation, indigenous wisdom, plant medicine and history. All of this culminates in her mission to lead people to be in a loving relationship with their body and Earth's body. She received her MA in Integrative Health Studies from California Institute of Integral Studies (CIIS), and a BA in History from UC Davis
Utilizing all she studied, Denell self-healed 7 years of HPV and cervical dysplasia diagnoses and have retained a clear bill of health ever since. In 2016, Denell founded Cervical Wellness, an online-education platform guiding Women to self-heal their cervix, as well as reconnect to their female sacred-anatomy in new and empowering ways.

She offers online courses & events, in-person workshops & retreats, as well as sharing illuminating content in public talks, and on Instagram & Youtube. Her book Informed, Aware, Empowered: A Self-Guided Journey to Clear Paps can be found on most major online- bookstores.
Connect with her:
Instagram: https://www.instagram.com/cervicalwellness/
Youtube: https://www.youtube.com/channel/UCB-oTmOkLDwk5NlwaCOjmRw