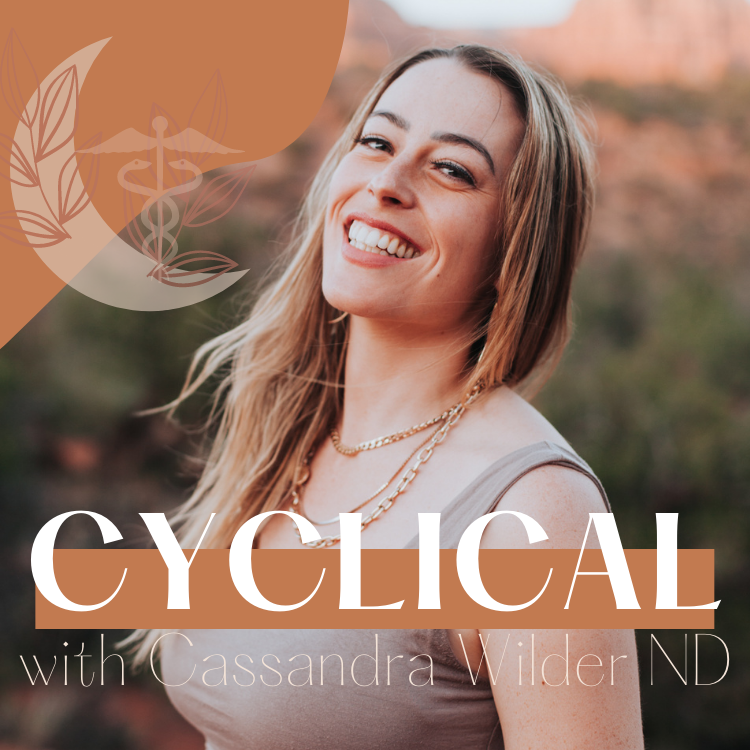 Welcome to the CYCLICAL Podcast with your favorite menstrual cycle expert and integrative hormone doctor Cassandra Wilder. Listen in for powerful conversations surrounding hormone health, menstrual wellness and metabolic restoration. Around here, nothing is too taboo or awkward to talk about - we discuss it ALL! Stay connected with Cassandra on IG @menstruationqueen
Episodes
Monday Aug 01, 2022
Monday Aug 01, 2022
Welcome back! So excited to talk about the postpartum window and answer all of your amazing questions you asked on Instagram! Women tend to spend so much time preparing for pregnancy and birth but sometimes the postpartum window is overlooked. How long is ideal for rest? What is the significance of the fourth trimester? What could help us have a more replenishing experience post birth? My interview with Kelsi Ludvigsen answers these questions and more!
This episode is part of our #cyclicalbirthseries 
And as always with everything on my platform and podcast, this is educational and never to invoke shame. 
Today's episode is brought to you by Cozy Earth, my FAVORITE super soft sheets. Try it for 100 days and love it or get your money back 
Take 40% off your order with code "goddesspodcast" at https://cozyearth.com/products/bamboo-sheet-set?variant=40252110405812
In this episode we talk about:
What the fourth trimester really is

How long we should rest for

How to set yourself up for a restful postpartum window

When a period may be expected to return

How to prevent postpartum depression

Options to get more help from your family or community

What our hormones are doing after baby arrives

How much blood loss is normal

How to get support during the postpartum period

And so much more
🩸 Wondering what's going on with your hormones?! Grab my FREE period bundle at www.cassandrawilder.com/free-bundle
🩸 Get on the waiting list for Period Reboot - my program that has transformed thousands of women's hormone and menstrual cycle health www.cassandrawilder.com/period
About today's guest Kelsi:
Kelsi Ludvigsen is a postpartum educator, Visionary and mother of two living in copenhagen denmark. She is a yoga studio owner turned postpartum doula and her goal with her work is to keep it simple, realistic, and possible for all postpartum people. ⁠⁠ 
⁠⁠ Her mission is to revolutionize the way we show up for postpartum culture and motherhood through evidence-based research mixed with traditional wisdom and self-care so that a community of mothers emerge feeling empowered, healed, and celebrated.⁠⁠
@kelsiludvigsen 
Kelsiludvigsen.com
Giveinkind.com can be a great website for friends and family to sign up to bring meals or offer services like house cleaning or mama help 
Loved this episode? Tag me @menstruationqueen to share the love
Lastly, it means the world when you take a moment to rate the podcast and subscribe! It's the easiest way to support the podcast and help us reach more women. xo