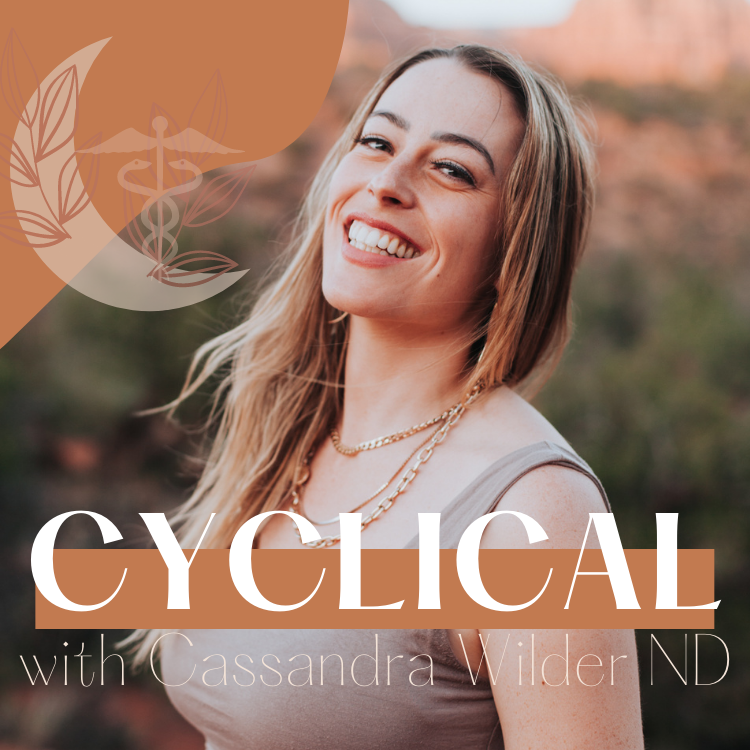 Welcome to the CYCLICAL Podcast with your favorite menstrual cycle expert and integrative hormone doctor Cassandra Wilder. Listen in for powerful conversations surrounding hormone health, menstrual wellness and metabolic restoration. Around here, nothing is too taboo or awkward to talk about - we discuss it ALL! Stay connected with Cassandra on IG @menstruationqueen
Episodes
Monday Jul 18, 2022
Monday Jul 18, 2022
Welcome back and get ready for this juicy episode today! I polled all of you on IG and got almost a hundred questions about breastfeeding! It seems all of us have real questions about breastfeeding, how to set ourselves up for success, the down low on pumping, how to keep milk supply up, things that prevent breastfeeding success, tips to avoid mastitis and more! Whether you are a mama or planning to breastfeed in the future, I think everyone will learn something interesting in this episode. 
This episode is part of our #cyclicalbirthseries 
Today's episode is brought to you by Cozy Earth, my FAVORITE super soft sheet. Try it for 100 days and love it or get your money back 
Take 40% off your order with code "goddesspodcast" at https://cozyearth.com/products/bamboo-sheet-set?variant=40252110405812
And as always with everything on my platform and podcast, this is educational and never to invoke shame. 
In this episode we talk about:
What a lactation counselor is

How often a baby needs to eat

Common struggles with breastfeeding

Avoiding painful nursing and cracked nipples

How to keep milk supply up

Pumping

Nourishment while breastfeeding

How many calories are needed for breastfeeding

Mastitis prevention

Can you breastfeed and use a bottle?

Milk storage

Teas and lactation cookies

And so much more
🩸 Wondering what's going on with your hormones?! Grab my FREE period bundle at www.cassandrawilder.com/free-bundle
🩸 Get on the waiting list for Period Reboot - my program that has transformed thousands of women's hormone and menstrual cycle health www.cassandrawilder.com/period
About today's guest Andrea Haskin:
I'm a mom of 2, a former middle school English teacher, certified lactation counselor and peer breastfeeding counselor with La Leche League. in upstate NY. I believe parents have been led astray by the modern medical-industrial system and the multitude of opinions and information available and have dampened the ability to mother biologically and instinctually. I want to encourage mothers to take back that instinctual power in order to be less dependent on the systems that took away their authority. I created Instinctual Mothering Because I want every new mom to know that they don't have to listen to anything anybody else says about how to raise their own baby. 
Instagram @instinctualmothering
Loved this episode? Tag me @menstruationqueen to share the love
Lastly, it means the world when you take a moment to rate the podcast and subscribe! It's the easiest way to support the podcast and help us reach more women. xo